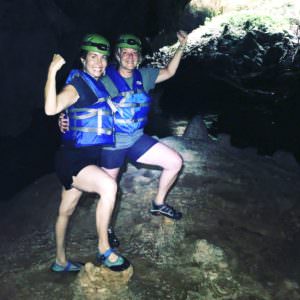 Amy and Penny were visiting us from St. Augustine, Florida for a week.  They love the outdoors and so they signed up for several of our inland adventures, but they hadn't really thought about cave tubing.  While they were on our Mayflower trip hiking to Antelope falls they heard some other guests talking their guide, Axel, about their Cave Tubing trip.  It just so happens that Cave Tubing is Axel's favorite adventure to guide so he was pretty enthusiastic, and Amy and Penny decided they had to try it.  Here's how it went:
"Other guests asked our tour guide Axel about it, and hearing him talk about it, it it was clear that this was something we wanted to participate in. I know it sounds cliché but seriously, the entire experience was amazing. In addition to the tubing in the cave, we learned about nature, we ate termites, we had Kahuna nuts straight from the tree, we swam in a lagoon, we found Mayan pottery (which we left in the cave) and we came upon this beautiful bevvy of butterflies! We also found beautiful river tumbled rocks then ended the day with a phenomenal lunch that was packed for us by Hamanasi.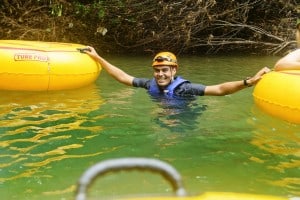 Our guide Axel, was superb. He was educational, engaging, kind, funny and all around an absolute delight to be around. I am not sure the experience would have been as rich if we did not have him as a guide."
We are delighted that Amy & Penny had such a wonderful time with Axel Cave Tubing.