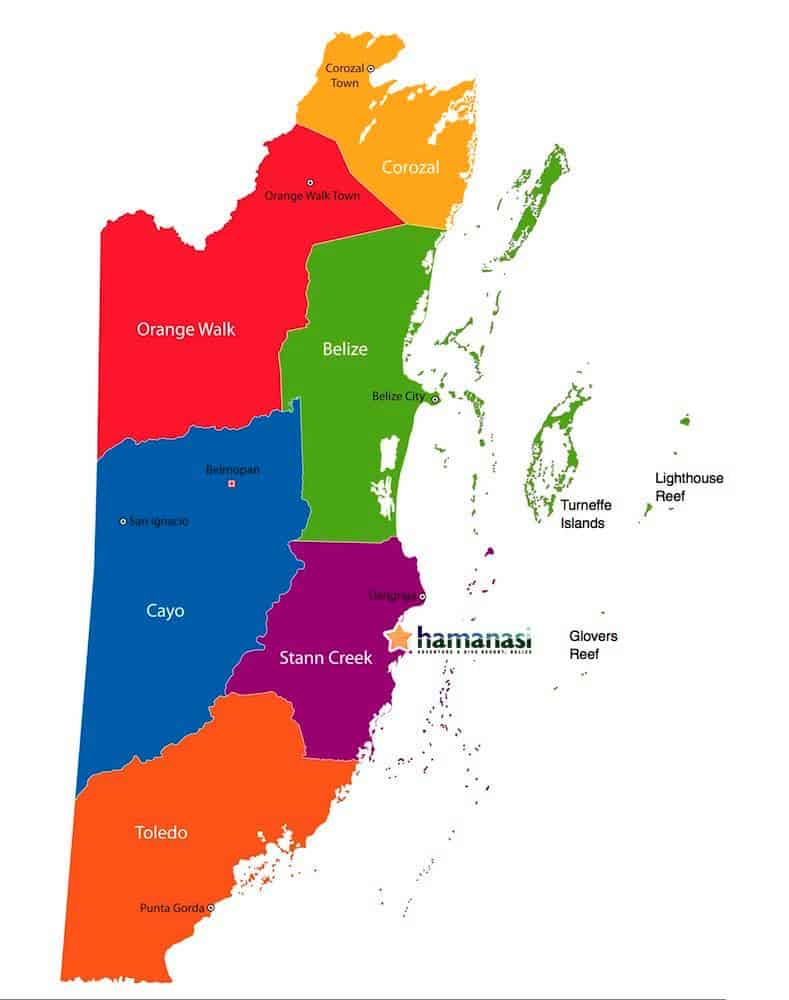 Advantages of Our Location
Access to Reef:
We offer half-day dive and snorkel trips to a pristine five-mile long section of the Belize Barrier Reef mostly within the South Water Caye Marine Reserve, the largest marine reserve in Belize.  For divers we host full day dive trips to all three of Belize's atolls, giving you more diving variety than you can get elsewhere in Belize.  Rough seas?  Divers and snorkelers who are unable to go out on the water due to poor weather conditions can join our daily inland adventures.
Access to Rainforest:
We are not on an island!  Any day that suits you it is easy and cost effective to do both marine and land based activities that are numerous and diverse.  We are a short drive away from the several national parks, the rainforest, caves, waterfalls, jungle rivers, Mayan sites and the world's only Jaguar Preserve!
Hopkins Village:
Just down the beach from Hamanasi is Hopkins, a funky, traditional Garifuna fishing village with only about 1,500 people.  You can immerse yourself in the rich culture of the Garinagu, which includes plenty of drumming, dancing, music and their own language.  Hopkins is safe and has several small local bars and restaurants serving delicious Belizean fare.  One mile inland is Sittee River Village, along the banks of its namesake, a beautiful jungle river.

You will hear a lot about Ambergris Caye, because it has about 60 percent of the hotel rooms in the entire country and the town of San Pedro which has about 10,000 residents. Hamanasi is less than a mile away from Hopkins, which is a Garifuna fishing village of 1,500 people. If you like more people around, lots of nightlife and mainly water activities then Ambergris Caye is probably right for you. If you prefer to get away from it all with more access to pristine nature and less people then Hamanasi is the best for you.
Hopkins is much closer to the reef and rainforest than Placencia.  Hopkins is half the distance to the Barrier Reef than Placencia and thus dive and snorkel trips only require half day -- leaving plenty of time to lounge in the sun!  If you are planning inland activities (such as Cockscomb Basin Wildlife Sanctuary) the newly paved Hopkins Road makes driving times significantly less.  Chose comfort, ease and convenient access to sites with Hamanasi!
Ready to Book?
Request a Reservation
Our Belize reservation staff are at the resort and ready to assist you 365 days per year.
SaveSave
SaveSave