Pro tip: Pack one change of clothes, flip-flops, and a bathing suit in your carry-on! Just in case luggage is lost or delayed.
Clothing and Personal Care Items
Shorts
T-shirts
Long comfortable pants
Jeans
Long sleeve shirt
Socks
Fleece or sweater (especially in the winter)
Bathing suit
Sandals
Hat
Sunglasses
Sturdy shoes like hiking boots
Water shoes (not necessary, but nice)
Wind breaker or rain slicker
Umbrella
Snorkel or dive gear if you don't intend to rent
Thermometer
Reef Safe Sunscreen — high SPF
Insect repellent with high DEET concentration
Hydrocortisone cream
Baby oil for additional protection against sand flies
Toiletries — difficult to get in Hopkins
Benadryl Tablets
Disinfectant wipes
Hand sanitizer
Disinfectant wipes
Face masks (optional)
Other Medicine
A flexible, positive attitude that's ready to learn and experience new things!
Other Travel Items
Passport valid for 6 months beyond your anticipated date of return
Visa (if necessary)
Dive Card – you need this to dive unless you do a course!
Insurance cards
Credit cards
Cash
Camera
Tickets
Book
Flashlight
Extra batteries
Binoculars, especially if birding
Maps, guide books & field guides
Pack for a Purpose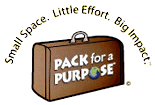 We are proud members of Pack for a Purpose, an initiative that allows travelers like you to make a lasting impact in the community at your travel destination. If you save just a few kilos of space in your suitcase and take supplies for area schools or medical clinics in need, you'll make a priceless impact in the lives of our local children and families. Items that are always helpful are
Backpacks
and school supplies to be distributed to the school children of Hopkins and the nearby villages,
medical supplies
for the Hopkins clinic, and
Pet supplies
to be donated to the Hopkins Belize Humane Society. See a more detailed list at
our Pack for a Purpose page
and learn more about
our work in the community
. Thank you for your contributions!
Packing FAQs
A. Belize is close to the equator and the sun is powerful all year round.  We highly recommend bringing Reef Safe Sunscreen with a high SPF rating.  We also recommend wearing SPF rated clothing to reduce the amount of sun exposure on both offshore and inland excursions.
A. Reef Safe Sunscreens are those that do not contain any ingredients that are know to kill coral reefs.  The scientific research is clear, many of the ingredients in standard sunscreens are actively harmful to coral reefs.  Sunscreen pollution is an immediate threat to kill the very reefs that you come to Belize to enjoy.
But the good news is that we now know how to make sunscreens that work great without using those harmful ingredients.  There is a long list of ingredients to avoid but there are lots of great products that meet the criteria, and they work just as well as what you are used to and protect the reef at the same time.  Click here to learn more, or ask us and Hamanasi will happily help you find a Reef Safe product to use on your vacation with us.  If you don't bring it with you, you can also buy some great products in our gift shop.
But be aware that we do not allow non Reef-safe sunscreen to be used on our boats.  Thank you for helping us protect our reefs for generations to come!
A. Yes, Belize is a very warm climate, but we do recommend that all guests bring light long pants and light long sleeve shirts (plus some sturdy tennis shoes).  These items are particularly useful for bug protection on our rainforest hikes but they can also come in handy for sun protection. You'll be glad you brought them!