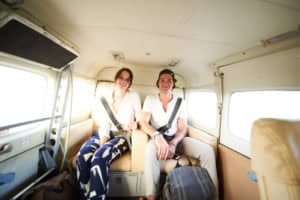 Dan Kelleghan is a professional photographer from Chicago Illinois who gave himself an interesting challenge: Try to visit a new country every month. It's turned in to an ongoing project he aptly calls #NewMonthNewCountry. When those travels took him to Hamanasi, we decided to ask him about the journey and what led him here. After he had experienced a few Hamanasi adventures he sat down and spoke with our GM Kirsty Roberts and you can read the conversation below. But first check out the awesome video that Dan and his traveling companions Katrina and Hector made while they were here. All the video was recorded either at the resort or on a Hamanasi adventure, and even the soundtrack was recorded at the Garifuna drumming class on their tour of Hopkins!
#NewMonthNewCountry x Hamanasi
Kirsty Roberts: So a new country every month? How long ago did you decide to do this, and have you been able to keep up with the challenge every month?
Dan Kelleghan: Well I started at the end of last summer, but I tried it for 3 months before I even told anyone I was doing it. I needed a trial period just to see if I could afford it, and if I could do it with my work as a traditional photographer and still meet the demands of my clients. After about 3 months I realized I could do it and I started telling people and realized that I could really run with it and keep it going.
Kirsty: Such a cool idea! It's great that you can make it work every month. Now where exactly has that idea taken you so far?
Dan: So far it's Iceland, Hong Kong, Japan, Cambodia, Thailand, China, Mexico, the Bahamas, Aruba, Finland, Dubai, South Africa, and now Belize.
Kirsty: And what's your second favorite country after Belize?
Dan: [laughing] Well I really enjoyed Japan. I loved how clean it was, and how everyone was kind of proper in a way. And there was so much happening in the city of Tokyo. It was kind of overwhelming. I was there for a week and I almost feel like I didn't get to see anything yet. And Iceland was great. The landscape was so varied and the people are so friendly there. It's a country full of storytellers.
Kirsty: Those both sound like great places to go. Are you approaching things any differently on country #14 than you did on country #1?
Dan: For sure. My comfort zone has been stretched a lot. Going to most countries now I think is less stressful than when I first started out, just because I know how to deal with cultural barriers a lot better. I think the first time you go out of the country you hope that everything is mapped out for you, but I've had so many mess ups and bad planning that I just kind of roll with the punches now, and I don't get as stressed as I used to. You just kind of learn how to deal with it.

Kirsty: How did you get into photography in the first place?
Dan: I started in high school riding BMX bikes, and taking pictures of my friends riding BMX bikes. I reached out to a couple of BMX magazines and asking if they could send me places, and that was my first realization that I could make a living off of photography. I did eventually go to photography school, but I've pretty much been shooting straight since I was a sophomore in high school. I've never looked back.
Kirsty: That's amazing. So now that you are traveling so much with your photography, how do you generally decide where to go next, and how did that lead you to Belize?
Dan: Generally I look for deals, I guess you have to when you are traveling so much. I use Southwest airlines a lot, and they don't fly too far from the US, so we were looking in the Caribbean at places that Southwest Airlines flies and we really got excited about Belize. Once we started looking at Belize we found Hamanasi pretty quickly.
Kirsty: You've stayed in a lot of hotels, what stands out to you about Hamanasi?
Dan: So much. Seriously. So much. The name recognition is incredible. It's insane. I don't know how the staff does it. We were talking about that the other day. I wonder if they have a board in back with all the names and faces of all the guests.
Kirsty: Kind of. No faces, but every day the staff does get a guest list with names of people in house. But after a day or two you don't need it anymore – you know everybody – We pride ourselves on that. It sounds cheesy that we want to be your home away from home, but we really do. We try to provide the vacation of a lifetime for every guest, and to do that you have to make it really personalized, make people feel at home and call them by name.
Dan: I love it. It's really special, and you guys are also just really in tune with the different excursions. You kept us super busy.
Kirsty: We do that with everybody!
Dan: I figured that. There's so much to see, and we tried to pack it all in – Every night of the trip we went to bed another hour earlier! I think by last night we were in bed at 8pm. But while we were off exploring all the time it almost made me more intrigued about Hamanasi itself. We would wake up in this beautiful resort and then not really see it at all during the day, then come home at the end of the day and I just wanted some time to explore and really see the place. We finally needed a day with some down time to do that. I also really liked the individual privacy of the rooms, you can't see any other people from the treehouse, and you just feel like you have the whole jungle to yourself.
Kirsty: What are you going to remember most from you trip to Belize?
Dan: How friendly everyone is. That's really special. Not only the staff, but when we were in Hopkins with our guide John, just talking to friends of his on the street, everyone was just so genuine and nice. It's really rare and refreshing to see that.
Kirsty: Do you have a favorite photo from your time here?
Dan: I loved the shots from the Mayan ruins, and the snorkeling shots we got with the GoPro. I've never seen as much wildlife while snorkeling as I did on this trip, and I've been snorkeling quite a few times all over the Caribbean.

Kirsty: That's great to hear. That's got a lot to do with the protected areas you can snorkel in here.
Dan: It must. We saw a nurse shark next to a Moray eel, Medel pointed that out. We saw maybe 6 rays, and a turtle, they are so graceful, never really in a hurry!
Kirsty: Once a trip is over, how often do you go back to photographs that you've taken on past trips?
Dan: A lot. People ask me what my favorite photos are, or a prospective client will ask me for an example of a type of photography I don't shoot very often. As a traditional photographer I'm up to over half a million photos that I've taken and as I look for something in that catalog I just use it as an excuse to relive many of the great memories of past trips.
Kirsty: Have you ever been back to a country or is it always on the something new?
Dan: There aren't a bunch of places I'd go back to, but there are definitely special ones in there.
Kirsty: One of the things about Hamanasi is we get a lot of repeat guests here. We have people who come back every year, and they tell us "we are not coming back next year, we are going to see something new!" But then they call up and say "we're coming back!" I think people just fall in love with Belize.
Dan: I'm not surprised. I can see why anyone would want to come back here. I would love to go snorkeling again. Or see the rest of the Mayan Ruins.
Kirsty: What's next on your list?
Dan: I'm not sure. To be determined.
Kirsty: OK. Well we're glad you ended up at Hamanasi and we're glad you enjoyed your time here – I guess we'll just have to keep watching to see where #NewMonthNewCountry takes you next.
You can follow Dan and his #NewMonthNewCountry project on Instagram @dkelleghan and be sure to follow us at @hamanasi_resort.