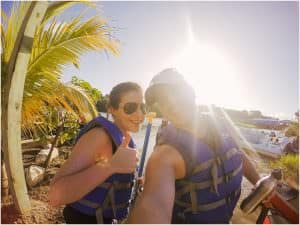 Jaron Johns and his wife Anna recently honeymooned with us at Hamanasi. They wrote some great blog posts about their trip, featuring many, many wonderful photos. The posts are on the website for Jaron's photography business DeiGratia Photo. We've shared just a few photos and favorite quotes below, but click the links to read the full posts and see all their great photos. You'll be glad you did! Thank you Jaron and Anna for sharing your experience at Hamanasi, and we hope we have a chance to host you again in the future!
Jaron Johns: From the moment we arrived in Belize we knew we had picked just the right spot for us! We love adventure, exotic places, and considering it was our Honeymoon, we were looking for a little luxury as well.

We [were] blown away by, our gorgeous Deluxe Treehouse room! Privacy, living room, double shower, outdoor jacuzzi tub on the deck, and a king size bed with curtains definitely made sure we were extraordinarily comfortable…we even had a bottle of champagne on ice waiting for us upon arrival.
Read more and see many of Jaron and Anna's amazing photos around Hamanasi here:
Belize Hamanasi Honeymoon Adventure Part 1 : The Resort
Jaron Johns: As part of our incredible Hamanasi Honeymoon Package in Belize, 5 different excursions were included [we chose] a canoe trip through the rainforest, snorkeling twice (because we loved it so much the first time), a Mayan History Tour to the site of two different ruins, and the Mayflower Jungle and Waterfall Hike… Our only regret is that there are so many other excursions we didn't have time to take. We already decided we will [return] on one of our anniversaries sooner rather than later.
Read more and see many of Jaron and Anna's amazing photos around Hamanasi here:
Belize Hamanasi Honeymoon Adventure Part 2 : The Excursions