Alvaro, our chief mechanic, is the MAN when it comes to engine repair and maintenance!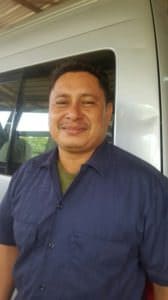 Alvaro, also known by his Hamanasi family and friends as 'Polo' or 'Reckanico', hails from the western part of our country.
He has been working at Hamanasi as our boat and vehicle mechanic for the past 9 years.   He loves taking Toyota engines apart and rebuilding them. One would think he is an advertising agent for Toyota as he is convinced that Toyota is the best brand out there.
On our boats we have only 4-stroke Marine Suzuki engines as they are eco-friendly.  Johnny Ginsbury a Suzuki agent from USA has been coming to do intensive training with Alvaro on engine diagnose with the computer, and engine repair.
Alvaro commented "Learning on how to work on Marine Suzuki engines has been one of my biggest learning curves as my strength is mostly with fixing vehicles."
He is the proud father of three beautiful kids.   On his days off, he can be found by the river with his family doing a mean barbeque with beers and, of course, listening to his favourite band 'Los Temerarious'.