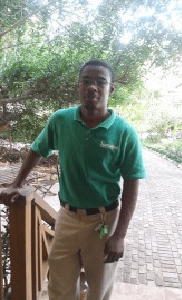 Selvin Roches AKA "Bino" has been with Hamanasi since June 2015. Originally from Trial Farm village in Orangewalk Bino he has been living in Blue Creek Village in Toledo since 2010.  Coming from a single parent home, going to high was not an option due to poverty, but luckily in 2007 he found Tumul Kin Center of learning, an NGO agricultural high school with a strong focus on Maya culture & traditions, which had a very low cost. Bino liked the environment and nature of the school as they teach you to be an entrepreneur.  He graduated from Tumul Kin in 2010, and was employed at the school as the food processing technician, he also managed to do some part time teaching as well. Bino speaks fluent Spanish, Mopan Maya and English.
In 2013 Bino fell in love with his now wife Dara, and they have a handsome son Junior. Bino has recently purchased some land, and built a family home.
"What I love doing the most is cooking." Every summer from his younger days he would seek out part time jobs at any food company/store or restaurant.  Apart from loving to cook, Bino is always looking to learn new things, which is how he landed up taking the opportunity at Hamanasi to be our assistant purchasing officer.
"I like to be on the go and Hamanasi keeps me moving. I love the environment at Hamanasi, everybody is so nice, staff always have a smile on their face, and are very positive. My fellow employees keeps me going with all their jokes"
Bino was active in the Green Team due to my position, he loves being a part team because "it teaches me how to conserve our nature resources such as water and energy. Also I can teach and share my knowledge with the community".