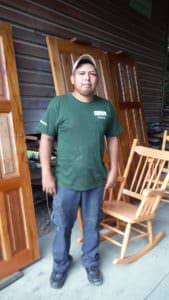 Juan Carlos Garcia has been working at Hamanasi for past 5 years in the Carpentry Department as a finisher man. His main responsibility is to ensure that the wood is properly oiled and vanished.  The youngest in his family of eleven brothers and four sisters, Jaun lives in San Ignacio in the Cayo District with his parents.
His parents fled the civil war in Guatemala in the late 1980's and ended up living on a remote farm in the western part of Belize on the border with Guatemala.  Due to the remoteness of the farm, Carlos was unable to go to school. However, to assist his parents, he started working at the age of 13 years and has managed to learn to read and speak English.
Juan has a big interest in mechanics and fixing vehicles.  He spends his free time helping out his friend who is a mechanic. He is very grateful and happy to be a part of the Hamanasi family and admires the way how Hamanasi looks out for its employees.  And, we are grateful and so proud of Juan — a friendly, skilled and driven individual!
SaveSave
SaveSave