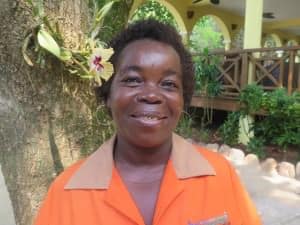 Meet Joyclyn Nazario who has been working at Hamanasi for 15 years in the Housekeeping Department. She is a very proud Garifuna woman who is from Hopkins Village, she lives with her 3 kids and 3 grand kids.
She loves playing soft ball when she gets the chance, she also loves reading novels and when she is not at work she spends time cleaning her house and visiting her grand kids.
She loves working at Hamanasi "Because staff are treated with love and the training we receive makes it easier to do a great job for our guests. Hamanasi  is my second home!".
Something interesting about her is that she is a religious person, who enjoys giving people advice, she loves eating her cultural food and the most interesting place she's ever been to is Cancun, Mexico .