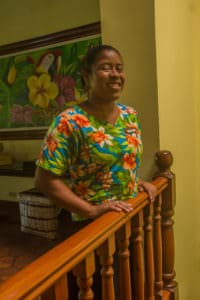 Kim Lewis, our  Assistant Food & Beverage Manager, is the mother of two wonderful children Zamira and Kristian.  The best times for Kim are time spent with her family — they are like best friends.   She does not care much for television, as most of her time is spent visiting friends and family in the village of Hopkins.  Kim listens to reggae and soul music and also loves karaoke!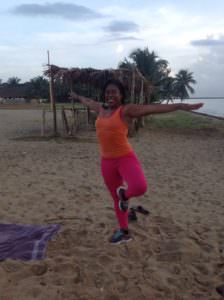 Last fall, Kim's life transformed after participating in a Fitness & Nutrition Course led by trainer Ruvi Makuni.  Now a devout fitness fan, Kim challengers herself every day with 30 minutes of exercise.  She has a group of local ladies that join her in the mornings.  She is surely their biggest motivation and they are her motivation, as well.   On the days that she does not want to go, she thinks about them and is forced to get out and exercise.
She has been part of the Hamanasi family for the past 14 years and has seen many things.  The most exciting event she witnessed at Hamanasi was a snake who had curled up under a table.  However, she will never forget the guest who said she was a vegetarian, but eats shredded chicken!
"Hamanasi is not all about working, but about learning how to grow as a person.  They are willing to train me to become a better person," said Kim.   She started working in the laundry and washing dishes and never dreamt about becoming a manager.  Now she is, and we couldn't be more proud of her!
SaveSave
SaveSave