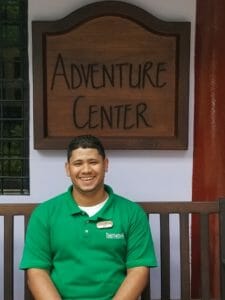 Meet Tony, Hamanasi's dedicated Concierge who for the past year and a half has enjoyed sharing his "jewel of a country" with guests. Tony has been helping make adventure stories possible by assisting guests with scheduling of their preferred tours. His most satisfying moment he says is seeing the thrill and excitement in people's faces when they recount their experiences of the day! Tony understands the thrill, as he himself experiences it every time he goes on these same adventures. His favourite is Waterfall Repelling, and for good reason, as there is a satisfying measure of self accomplishment and freedom in the tour!
A born and raised Belizean, Tony appreciates the value of family time yet enjoys being on the basketball court, soccer field or playing any sport for that matter. Of his many philosophies to be had in life, his favourite is the one he goes by the most, "Let your smile change the world, but don't let the world change your smile…"
Keep on shining that big smile of yours for the world, Tony!
SaveSave
SaveSave
SaveSave
SaveSave
SaveSave