Aurelio Martinez is the most famous and successful living Garifuna musician, touring the world with his band Garifuna Soul. In 2004, Aurelio's debut album, also called "Garifuna Soul", was recorded right here in Hopkins and won him numerous awards and international acclaim. Aurelio is larger than life here.  When we asked up and coming local musician Emilio Nathaniel Thomas who his number one influence was, it was Aurelio. Many of the groups that performed at Hopkins' annual Easter Paranda Music Festival in March list Aurelio as a major influence, too.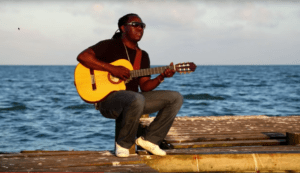 Recently, Aurelio was on vacation in Caye Caulker and had a chance meeting with American documentary filmmaker Mike Mann. Mike was in Belize to shoot some episodes for his documentary series "The Beer Diaries". We are all lucky this chance meeting came about, because 12 years after releasing his hit song "Yalifu" on his debut album, the song finally got a music video.
Aurelio came back to Hopkins with Mike and they shot a music video and a concert at local venue Driftwood Pizza. "Yalifu" means "Pelican" in Garifuna.  Mixed in with the music video is an interview where Aurelio tells us the story of how he wrote "Yalifu" while sitting on the beach and staring out at the pelicans over picturesque Hopkins Bay.
We may not have written any hit songs, but we at Hamanasi also have pondered life while sitting on the beach here! Maybe you have too?! We'll just say that our Hamanasi family understands the inspiration of this beautiful place Hopkins, and we are very glad that Aurelio found inspiration here, too. You can often hear "Yalifu" while sipping a cool cocktail at Hamanasi's bar.  But here is the long awaited video for "Yalifu" – Enjoy!
Mentioned in this post: