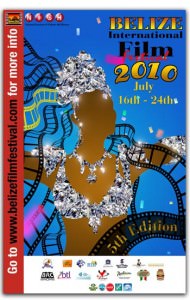 THE SILENT ARMY will open Belize's 5th International Film Festival…
A Carnival like excitement is growing across the country as the BELIZE INTERNATIONAL FILM FESTIVAL'S Red Carpet Opening Night Gala set for Friday, July 16th at the Bliss Centre draws near. International celebrities like Daryl "Chill" Mitchell and Anthony Anderson are confirming their attendance and so are the BelAms, with comedienne Lauren Burgess leading the bunch returning home to be a part of this glamorous JULY SUMMER EVENT being promoted by NICH and its many partners in the tourism sector. The Festival will open with red carpet events in Belize City at the Bliss on the 16th, San Pedro at the Reef Village Resort Paradise Theatre on the 17th and San Ignacio's Ka'ana Boutique Resort on the 21st of this month.
The real heart of this festival, however, is its wide diversity of films, industry workshops and seminars. And the long awaited list of selected films was revealed. A sneak peak, however, reveals that The Silent Army, a Dutch film, has been selected to open Belize's Festival this year.