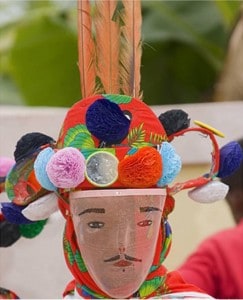 The "Jankuno" dance is a traditional dance performed during the Christmas season. The dancer wears a mask which resembles an English face topped by a hand-made hat similar to the English naval hats of the 18th century. It is said that these dances have their origins in the days of slavery and were intended to make fun of the white masters and their lack of rhythm.
Dum, du-dum … dum du-dum, is the rhythm of the drum that seems to be coming from across the village. It is an insidious beckoning to become a part of the music. As you draw nearer, the drumbeats become more distinct and there is the rising accompaniment of "shingling" shells. Above the crowd you are approaching is the wild movement of brightly colored feathers that adorn the head of dancers you are yet to see. The urge to be a part of whatever is happening gets stronger.
It is early January, the end of the Christmas celebrations and the final phase of a fortnight of dancing culminating in "Dia del Rey", observed January 6th (or the weekend closest to that date,) by the Garinagu. It is another activity that helps to validate Dangriga's self-imposed title, "The Culture Capital of Belize".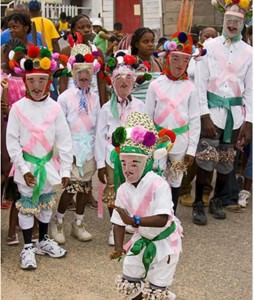 You know that the dancing of the Jankuno is drawing near when you see a young man here, a young boy there, gathering colorful feathers, assembling an attractive crown, or putting the finishing touches to the painted face masks that will be worn. You might be lucky to see a fully dressed dancer or two heading in the same direction as you, in search of the drums and their captivating rhythm.
Moving slowly to the front of the crowd you are suddenly faced with 5-10 costumed dancers wearing long sleeved white shirts, white gloves, knee length black pants and the occasional skirt, stockinged feet with black or white shoes. Green, pink or black ribbons criss-cross their chests and wrap their waist. At the knees, hundreds of tiny shells strung into knee pads make that "shingling" sound that accompany the dancer's every move. The heads are wrapped in colorful cloths and the face is covered with painted masks depicting the features of a Caucasian male.
Inside the ring of onlookers is a loose circle of dancers awaiting their individual turns to perform, beginning with the youngest. With forearms extended, the incessant hypnotic movement of the dancer's feet matches the rhythm and pattern of the two drummers. But it is the dancer's movement that dictates the drummers' beat and not the other way around. Paying keen attention, the drummers know when to pause, when to change the rhythm, and how to keep the flow. Each dancer brings his own unique style and flavor so the dancing is not repetitious. The Jankuno has the added richness of the Garifuna history and culture.