Hamanasi guides, "Golden" Miranda and Pedro Ical, recently participated in Part I of a new Birding Ecology course offered in Belize! TIDE Tours is presenting a Certificate Program in Bird Ecology Mass Audubon, the first ever course of its kind to be held in Southern Belize. Part I was held on November 14-16, a 3-day intensive session covering various aspects of: Anatomy and Physiology, Orientation and Systematics, Evolution and Speciation, Flight and Migration, and Bird Conservation. Part II will be a 3-day session to be held on the 24th -26th of May 2010, and will include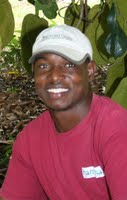 aspects of: Breeding Biology, Feeding Ecology, and Leadership Skills. The program also included early morning bird walks and a self-study assignment to be completed between the two formal sessions.

The purpose of the program is to enhance the ornithology (study of birds) knowledge base of naturalist guides, teachers, and others with a strong interest in the birds of Belize. Golden and Pedro are very excited to expand their already extensive knowledge about the local and regional birds. Hamanasi has an early-morning Birding Tour every Thursday!