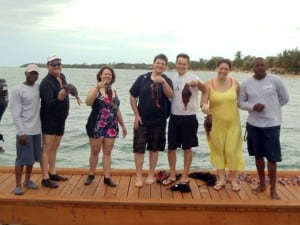 It's been a week of ups and downs for our divers here at Hamanasi. We started the week out with amazing Belize scuba diving weather and all divers were chomping at the bit to get further and further out to some of our amazing Belize atolls. Joining us on Sundays dive was our soon to be new Adventure Centre Manager Chris with Hamanasi's new Sustainability Manager Vicky who were out getting a feel for our reefs. They were joined by Bob and Edina who were making a couple dives after arriving from Florida and we had repeat guests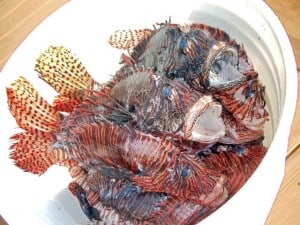 Gia and Adrianne from San Diego out working towards their PADI Advanced Open Water certifications with local Belize dive instructor Roy. Perhaps the biggest personality on the boat and giving Big Daddy a run for his money was Big Mike who was determined to make a dent in our invasive lion fish species population with his spear. It was such a beautiful day on the water and throw in our beautiful spot for surface intervals out at Salt Water Caye we couldn't have asked for a better day. I mean the guests were treated to seeing an octopus and sea horses during their surface interval.
As the week went on the diving got just a little bit better. Monday was another day to the local Belize barrier reef, but on Tuesday our guests were treated to some of our best diving as the weather cooperated for us to head to Glovers Atoll for a three tank dive day. Joining us this day was also Blake who was finishing up his final dives to complete his PADI Open Water Course and Gia and Adrianne were back on the boat ready to finish up their final advanced dives. On the dives our guests came up cheering for seeing Nurse Sharks, rays, and a couple turtles. Everyone was so happy and we were stoked because the weather was about to turn and our guests would turn their attention to our in-land tours as the winds were going to keep the boats along the dock at Hamanasi until Saturday, but that's all part of the adventure. After watching Big Mike working on the lion fish population we had some new spearers just itching to give it a try. I have to say they were pretty good as the seven of them were able to take out over 80 lion fish! Yes, that's 8-0 lion fish that will not be able to spawn and add to the population. The weather is looking amazing this week and we're excited to get back out for more Belize scuba diving.