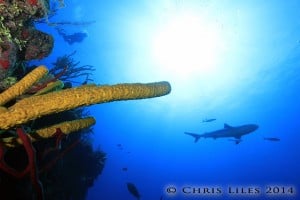 It seems each week our diving and conditions just keep getting better and better.  In our last report we were happy to share we helped Jocylen make dive number one-hundred out at Turneffe Atoll and this week, just a couple days later we had a boat full of excited divers making the "Ultimate Dive", diving the top three best dive sites in Belize.  This consists of a dive at Turneffe Atoll and Belize's famous Lighthouse Atoll and Halfmoon Caye.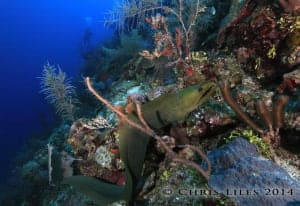 We started our day for the Ultimate Dive back at Turneffe Atoll at the Elbow.  The other day the Elbow was a great way to start the three tank dive trip and it also helped set up the great trip for our Ultimate Dive.  We had three dive groups on the boat.  Martin was diving with our new arrivals and underwater photographers Jeff and Behnaz while 'Big Daddy' Garif took group two with David, Robert, Brian, Yoepa, Mike and his daughter Tricia.  Our final group was Morgan who was working on completing her PADI Advanced Open Water with Belize Dive Instructor Roy.  The visibility was a little lower than it was a few days ago but it didn't affect our dive.  From Spotted Eagle Rays, to free swimming Moray Eels, Octopus and some awesome little Nudibranchs everyone came up from the dive bragging about seeing something bigger (or smaller) and better.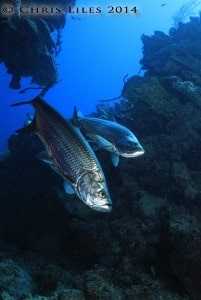 During our first surface interval our captain Neal had the boat on the move to our next dive site an hour away at Half Moon Caye Wall.  As we arrived at Half Moon Caye Mother Nature shined down on us and the sunshine came out and made everything bright and sunny.  It was stunning.  All the small islands dotted around us as we geared up for our second dive.  Roy was first into the water with Morgan to do some skills while the other two groups weren't far behind heading to the edge.  Half Moon Caye Wall is exactly what it sounds like.  The Wall starts at around 30 feet deep and plunges deep towards the abyss.  It was awesome.  We had a resident Caribbean Reef Shark swim with us through most of the dive with a couple late arrival sharks at the end to say good-bye as we headed to our safety stop.  We also enjoyed more Eagle Rays swimming past as we admired beautiful sponge and coral formations as we worked our way through the many underwater swim-throughs. I still think the highlight of the dive was the school of Tarpon we came upon in one of the swim-throughs. For those who have never seen a Tarpon I think they resemble a prehistoric cross between a Salmon and a Shark.  These were not overly large, just around three feet long with a couple bigger granddaddy four footers.  So cool to see in the swim through.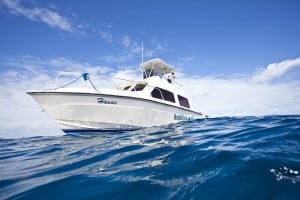 During our second surface interval we took a detour and break from the boat to visit the Half Moon Caye Bird Sanctuary at Lighthouse Atoll.  it was such a perfect day for the visit.  The sun was shining and made for some great photo ops by everyone of the resident iguanas, Red Footed Boobies and Magnificent Frigate birds.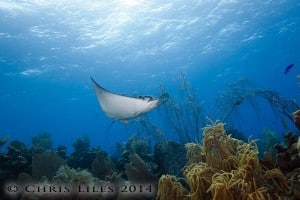 After lunch we headed back onto the dive boat for our third and final dive at the Aquarium.  After this dive I really think we should change the name to Eagle Ray Runway.  We saw Spotted Eagle Rays everywhere.  They were out in the blue water, in the deep below us, up on the shallow reef, they were all over.  At one point Vicky called me over to show me two of the prettiest blue nudibranchs we've seen in a long time.  The first part of our group even found a turtle when they were swimming into the shallows for their safety stop.  Such an amazing way to end a great day… and this was only the first day of the week!  The water just keeps getting nicer and nicer.