Two very special Belizeans have been selected as national finalists in the 2009 First Caribbean International Bank's Unsung Heroes Competition. Nurse Judith Cuellar-Krieg and Paul Bradley were recognized at a ceremony held Wednesday , October 21, 2009at the Biltmore Plaza Hotel, Belize City.
"Nurse Judy", as she is affectionately known, runs the
Equity House Clinic
in Hopkins Village. She was born and raised in Belize City but moved to the USA to make a life for herself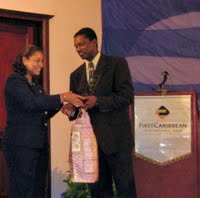 in the field of nursing. Five years ago, the Registered Critical Care Nurse moved to Hopkins along with her husband and young daughter to retire… but duty called. There was a need for medical care in the area and that is when Nurse Judy sprang into action and opened Equity House which provides healthcare to residents of Hopkins and the surrounding villages. Nurse Judy doesn't have working hours; she is on call all day and all night. She is the "go to" person for us here at Hamanasi Resort! But Judith says that doesn't make her a hero. She says she is just doing what comes naturally and what her mom, who also was a nurse, taught her. She also works closely with the doctors and nurses at the Southern Regional Hospital, the Ministry of Health and the community she serves.
The two local finalists will now compete in the Regional Unsung Heroes Competition against finalists in all the other countries and territories in which the bank operates. The region winner will be announced in December.
Congratulations and Good Luck to our very own Nurse Judy!!!