When Patricia and her husband, Walt, came to Hamanasi, they had high expectations. Afterall, their son, his fiancé and her parents had already stayed with Hamanasi and recommended it highly. So much so, that they decided to do a family adventure vacation together along with an intimate beach wedding. What a wonderful way to start off the couple's newly married life!
But creating and celebrating happy memories for their families wasn't the only thing that Trish and Walt did on their trip to Belize. They decided to give back to the community through the Hamanasi Education Fund. We spoke with Trish to ask her about their Hamanasi experience.
Q: Which tour was your favorite and why?
A: My favorite tour was snorkeling in the protected barrier reef. I had wanted to swim in the ocean my entire life, and the experience was all I had anticipated. I love to hike, but this was hiking in a national park
complete with an informed guide and plenty of safety measures! Additionally, I also loved zip lining in the forest, going mountain to mountain. Finally, I have always wanted to be in a jungle and doing so was spiritual for me.
Q: What was your favorite aspect of Hamanasi?
A: The culture of Hamanasi. The people were genuine – concerned for the environment, each other, and the guests. This culture meant that the hotel and rooms were pristine, decorated peacefully, and clean. The beach and all the grounds were immaculate and the spaces gentle. Everyone loved the time we spent outside because there are trees to sit under, paddle boards, kayaks, a swimming pool and on and on. We all enjoyed getting to know the staff who were willing to talk about many aspects of Belize and the resort. We toured both the garden and the carpentry shop. The staff truly wanted us to experience the environment and lifestyle of Belize, enabling and encouraging us to be outdoors – go to the preserves, learn about agriculture and education.
Q: How did you hear about the Hamanasi Education fund?
A: The staff! They were very open to sharing about their lives. My husband and I are retired high school teachers. We asked lots of questions about education and learned that high school is not free, although students can use public transportation to get to school. People shared how going to high school provided them opportunities that gave them a career. Many of the employees had gone to high school for adventure guiding or tourism positions. Several had interesting training in environmental education. The cost of high school in Belize varies with the grade level, but starts at $500 US dollars. Books and uniforms cost extra. As we were checking out, there was a flyer about donating to some local programs, and the education program was listed. I made a small donation.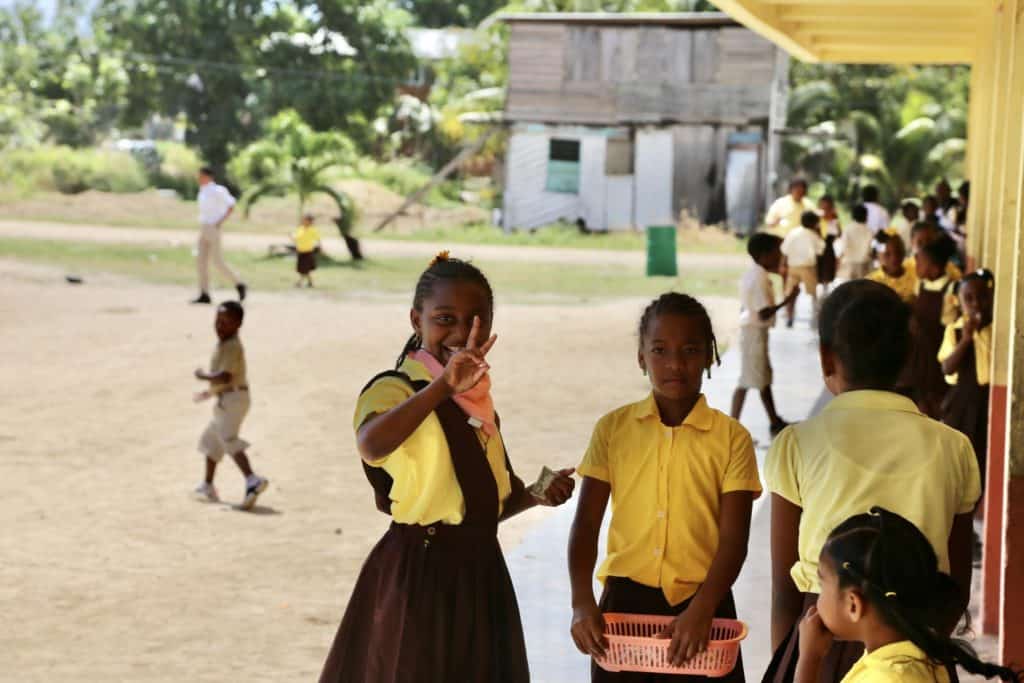 Q: Yes, but later you gave more. What was the reason you made such a generous donation?
A: When we got home, my husband and I thought we would like to help at least one girl and one boy go to school. We thought $1000 was a good amount. We were a little hesitant, because we couldn't find much on the website about how the money would be managed, but Dana (founder of Hamanasi) and Melonie (Guest Services Manager) helped assure us that the money would go directly towards school fees.
The Hamanasi Education Fund helps cover these costs to ensure access to educational opportunities.
My husband and I both grew up in struggling families and becoming teachers raised our standard of living tremendously. Both of our sons attended vocational college. In our small town, we have scholarship programs for college from several small groups. Both of our sons received some grants when they went to college. At that time, the money made a big difference for us. So we know from personal experience how much education changes lives.
Q: What would you tell others about Belize and Hamanasi?
A: If you want to visit a preserved jungle, hang out at a beach, swim in a protected reef, and learn about the people who live there – go to Belize. Better yet, stay in a place like Hamanasi where the people care about you and have an amazing standard of cleanliness. (Ok I am a clean freak!)
On behalf of the children of Belize and Hamanasi we would like to express our sincere gratitude for Trish and Walt's generous donation to Hamanasi's Education Fund. They are definitely changing lives for the better!