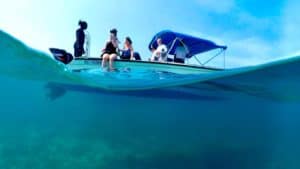 There are many ways to celebrate this most loved holiday and each way is just as wonderful and festive as the other. Though traditions may vary, none is complete without family and friends, gathering together spreading love and holiday cheer, smiles and, of course, let's not forget the presents!
Well, it's Christmas in Belize and the weather is far from frightful! Get packed, bring the entire family and come join us as we celebrate with drums, rumpopo and family.  And, jump on in, the water is fine!
Jingle Shells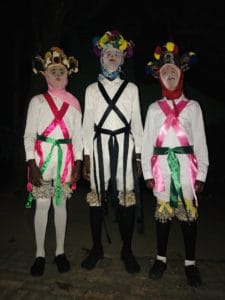 Jingle shells, jingle shells, jingle all the way!
Each year in Belize, we take to the streets dressed in colorful masks, white long sleeved shirts and pants, shells tied around our knees, ribbons across our chests and lots of holiday cheer!
The little drummer boy has quite a different meaning on this side of the world, for when he comes out he's playing the Wanaragua rhythm also known as Jankunu, with his dancers right behind him moving to the captivating beat of the drums.
Both young and old will form dancing rings and take turns showing off their dancing skills.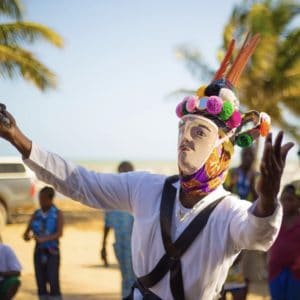 You will also come across the "two foot cow" and the "hunter man" in a dance we call "Charikanari". Men will dress up in women's dresses stuffed with pillows to insinuate the form of a cow, costumes are completed with cow horns strapped to their heads and a cow face mask while the "hunter man" will dress just as his name entails and carrying a butcher knife. It's quite a performance to watch, but don't be afraid to join in! All are welcome!  After all, it's Christmas in Belize and the more, the merrier!
Performers will entertain the public with song and dance for hours at a time parading up and down the street all of Christmas Eve.
Come Hungry!
Arriving to the family home during the holidays, walking through the front door, you are greeted with the delightful aroma of cakes and pumpkin pies baking away in the oven not to mention the smiling faces around the table enjoying a tasty glass of eggnog. After all, you can't have Christmas without Fruit cake and Eggnog!
In our little jewel, we celebrate with Black Fruit cake and Rumpopo. Rumpopo being similar to eggnog, is a rich and creamy beverage served among friends and family simply enjoying each other and the holidays and of course it goes great with a slice of our delectable black fruit cake.
This Christmas, you and your family can enjoy some Belizean Rumpopo and black cake by using a Belizean's very own homemade recipes as seen below.
Rumpopo (Recipe by Luis Rodriguez)
---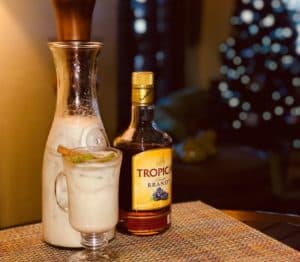 2 cans Condensed Milk
2 cans Evaporated Milk
6 Eggs
1 whole nutmeg, grated
1 tsp Vanilla extract
Your choice of Rum (to taste)


Beat eggs with cake mixer set to high for 10-15 minutes. In a separate bowl, mix condensed milk and evaporated milk together until combined. Add eggs to milk mixture and stir until well combined. Lastly, add rum of your choice. Add as much or as little as you made need. Have fun with it!
Serve over ice and garnish with cinnamon powder or a cinnamon stick. Enjoy with friends and family!
Black Cake (Recipe courtesy of Patricia Rodriguez)
---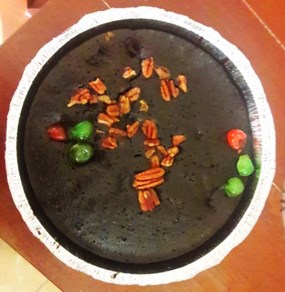 1 lb. butter
1 pt. stout
1 qtr. rum (optional)
2 lbs. flour
1 tsp all spice
1 lb. brown sugar (for stewing fruit)
1 lb. each of: raisins, prunes, currants, citron, dates, cherries and pecans
2 lbs. brown sugar
1/2 pt. caramel coloring
8 eggs
1 tsp baking powder
1 tsp nutmeg


Method:  Stew all fruit along with 1 lb. of brown sugar and rum until it becomes a thick syrup.
Let cool overnight.
In a large mixing bowl, using a cake mixer, cream butter with 2 lbs. of brown sugar and add eggs one at a time.
Add flour, baking powder and spices alternately with stout and caramel coloring until well combined.
Finally, fold the stewed fruits into the mixture.
Line cake pans with brown paper.
Fill pans up to about half way.
Bake with very low heat at 275 degrees F for about 3 hours (small cakes with take less time).
Tip: To avoid fruits from sticking, drain fruits, mix with 1 beaten egg and dredge in flour before adding to the creamed mixture.
Go ahead! Get in your kitchen and whip up some Rumpopo and Black Fruit Cake. You're sure to enjoy.  Don't forget to let us know how it turns out!
---
Spreading Holiday Cheer!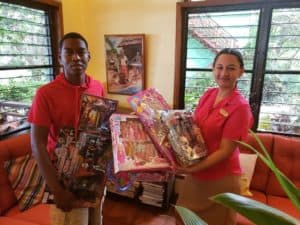 Everyone looks forward to opening a present on Christmas Day, so every year each community holds a toy drive for the children. Each child will be gifted a present while making wondrous holiday memories. Not to worry parents, we didn't forget about you. The parents will get to enjoy the beautiful soundings of all the local artists that come together for that special occasion.This is just another way that communities spread Holiday cheer.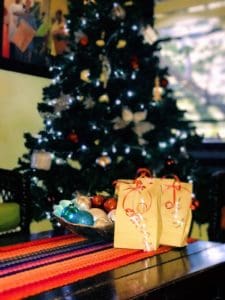 Christmas in Belize is filled with colorful festivities, beautiful music, family togetherness, generous hearts and timeless traditions. We would love to hear how you spend your holidays! Feel free to share with us or even to enjoy the holidays here in Belize!