The Belizean Storm Salad has been a favorite ever since we introduced it to the menu at Singanga. If you enjoyed it on your visit to Hamanasi, then try making this recipe at home and remember your time with us in Belize!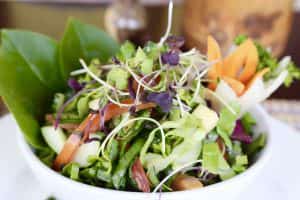 Ingredients:
1 cup of Pineapple - medium dice
2 cups of Spinach - julienne
2 cups of Cucumber - julienne
1 cup Tomato - julienne
Handful of chopped Cilantro
2 Green Onion stalks (for garnish)
Preparation:
Toss all the ingredients together then drizzle dressing over the salad
For the Citrus vinaigrette: Juice of 1 lime, Juice of half and orange, dash of olive oil and salt & pepper to taste
Adding freshly grilled fish to this salad makes a delicious, healthy meal!
Enjoy!