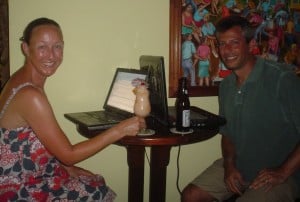 Ingredients:
1 oz. Watermelon Pucker Liquor
1/2 oz. Peach Schnapps
1 oz Light Rum
1/2 oz Amaretto
1 oz Fresh Lime Juice
1 1/2 oz Fresh Orange Juice
In April of 2006 travelers Karen Catchpole (writer) and Eric Mohl (photographer) left their jobs and apartment in New York City and embarked on the Trans-Americas Journey, a five year, 200,000 mile cross-country and cross-continental drive.
The overland journey is an exploration of the byways and back roads of North America, Central America and South America and a search for the people, places and things that make every place special. A true Pan-American road trip. In December of 2008 the Trans-Americas Journey wrapped up its time in the US and Canada and crossed the border into Mexico where Karen and Eric will spend the coming months exploring, shooting and writing before venturing further south through Latin America until they run out of road.
They have now found their way to Hamanasi!  Welcome Karen and Eric… and enjoy the "Belizean Passion"!
Blend with ice, garnish with orange slice and enjoy!
Hamanasi wishes Eric and Karen safe travels and outstanding adventures on their journey!