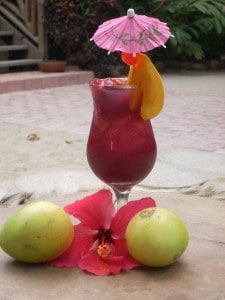 Ingredients:
1/2 cup brandy
1/4 cup lemon juice
1/3 cup lime squash concentrate
1/3 cup orange juice
1 (750 milliliter) bottle dry red wine
1/2 cup triple sec
1 ripe mango, medium dice
1 lemon, sliced into rounds
1 orange, sliced into rounds
1 lime, sliced into rounds
8 maraschino cherries
1/4 cup white sugar (optional)
2 cups carbonated water (optional)
Mango season is here once again and we are always exploring new ways to enjoy them.   You've got to try out this Mango Sangria!
Preparation:
In a large pitcher or bowl, mix together the brandy, lemon juice, lime squash, orange juice, red wine, triple sec, and sugar. Float slices of mango, pineapple, lime, orange, and maraschino cherries in the mixture. Refrigerate overnight for best flavor. For a fizzy sangria, add club soda just before serving.
After a long day of adventure, a fresh Mango Sangria hits the spot!
Enjoy!