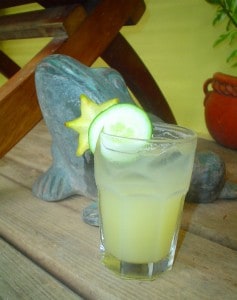 Ingredients:
Fresh Cucumber Juice
Fresh Star Fruit Juice
Fresh Mint Leaves
1 Barrel Light Rum
Sweet & Sour Mix
He's done it again!  King uses local ingredients to create a fresh, tropical sensation that's perfect for hot summer days!  If you can't get star fruit, your favorite citrus will compliment the cucumber juice just fine.
Preparation:
Combine Fresh Cucumber Juice, Fresh Star Fruit Juice, Fresh Mint Leaves (crushed), Light Rum and Sweet & Sour mix in a shaker.  Shake over ice, serve in a cocktail glass, and enjoy!