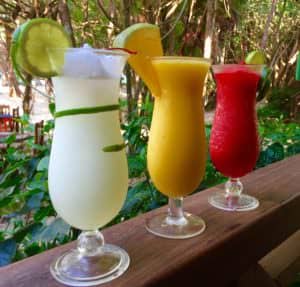 Ingredients:
3 oz local light rum
1.5 oz lime juice
Splash of simple syrup
Fresh Fruit of your choice
Join us every Wednesday here at Hamanasi for Happy Hour between 4-6 pm, when we crack out the fresh fruit and local Rum to be blended into delicious fruity  daiquiris, mostly served frozen.
Thanks to Jennings Cox, an engineer in Cuba at the time of the Spanish-American War, who is credited as the inventor of the Daiquiri!  It's so quick and easy to concoct, making it the perfect summer cocktail.
If you can't join us for happy hour, then you can make it yourself.  It's probably a good idea to start practicing now for the 19 July 2016, which is celebrated as National Daiquiri Day!
Preparation:
Combine ingredients in a blender. Blend with 1 cup of ice and the fruit of your choice and enjoy!  Pictured above are Lime, Mango and Strawberry Daquiris – some of our favorites!