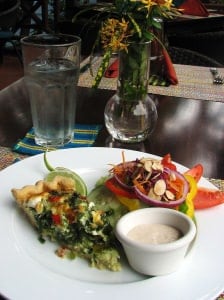 After our resort closure to put the final touches on the new great house and the newly redesigned Singanga Restaurant we introduced many new organic menu items. Many of these new items are organic or vegetarian using sustainable products. Hamanasi's goal has always been to be a sustainable resort and we take pride in all of our department's practice of the 3 R's "Reduce, Reuse and Recycle." In the grounds department we reuse/recycle by composting. In the bar we recycle wine bottles as aggregate for our cement pathways and our kitchen also practices reusing with a few sustainable menu items. One of the items in our new redesign menu is our "Quiche of the day".
Like many of our menu items, our quiche are produced with local Belizean products like fresh eggs, cheese and many of the vegetables are grown in our organic sustainable garden. The raw fresh prep vegetable from the night before that went unused are used as the key ingredients for this savory pie.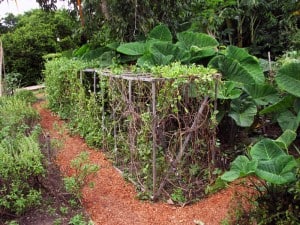 Some of our new quiche options include tomato, zucchini, yellow and red bell peppers, onions, broccoli and spinach as well as other seasonal vegetables.
Today our feature is spinach from the organic garden along with roasted bell peppers and onions prepared by our baker to entice your taste buds… inquire with your server on our daily variety during your stay at Hamanasi.