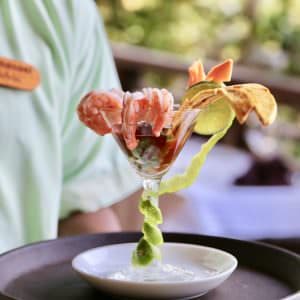 Ingredients:
1 pound medium or large shrimp, with tail, and rinsed
4 cups boiling water
Lemon wedges
1/2 cup ketchup
1 lemon, zest finely grated and juiced
2 celery stalk chopped
1 large onion chopped
1 cup cilantro chopped
1 large sweet pepper chopped
1/4 teaspoon Worcestershire sauce
Salt and pepper to taste
Hot sauce to taste
Love Shrimp? This mouthwatering explosion of shrimp & salsa awesomeness is very easy to make — here's how.
Preparation:
Drop the shrimp into the boiling water and turn off the heat. Cook the shrimp, stirring occasionally, until they curl and turn pink, about 2 to 2 1/2 minutes for medium shrimp, 3 minutes for large ones. Drain and cool to room temperature.
For cocktail sauce mix all ingredients.  Add hot sauce, salt and pepper to taste.
Enjoy!