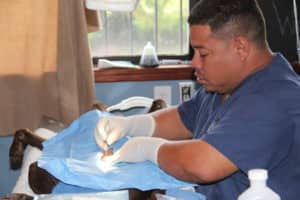 The last weekend of every month the Hopkins Belize Humane Society (HBHS) hosts a vet clinic. During a busy two days locals carry, drive and even bicycle in their pets for spays, neuters, vaccines, deworming, emergencies and general wellness.
During a recent vet clinic, 38 surgeries – all spays and neuters – were performed by veterinarian Dr. Orlando Baptist. An unassuming, quiet man with a big smile, Dr. Baptist hails from the capital city Belmopan and makes the journey once a month to Hopkins.
"I love animals and love taking care of them, "said Dr. Baptist. "In doing so, I also am improving the lives of their caretakers, too."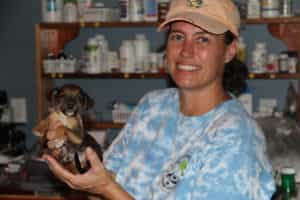 Living in the tropics is hard. Animals get fleas and ticks. They scratch, get sores and develop secondary bacteria or fungus infections, which often snowball into a systemic problem.   Some animals enter the world disadvantaged, like an adorable brown puppy that was born without a back leg.   Moreover, getting veterinary care in Belize isn't easy. Vet offices are often far from remote villages and care is expensive. The average cost for a spay or neuter surgery at a standard veterinary office is US $100 – a small fortune for most.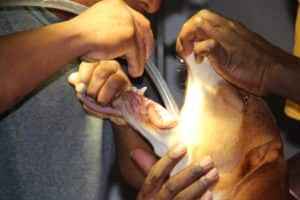 But the HBHS clinics are different. What is unique about HBHS is that all clinics are free. Pet caretakers are not required to pay anything, but donations are accepted, and often received.  Furthermore, HBHS has taken its show on the road. Recent clinics were as far away as Mahogany Heights, Armenia, the Crystal Auto Farm and even Belize City in conjunction with the Belize City Humane Society. Combined, they did over 200 surgeries in two weeks.
In addition to the clinics, HBHS holds a monthly puppy class. Kids learn how to better care for their animals including learning that they need to feed them rather than let them fend for themselves. If they bring their dogs to the class, they get free dog food.  Sometimes the animals are given dewormers and vaccines. HBHS also helps trap feral cats.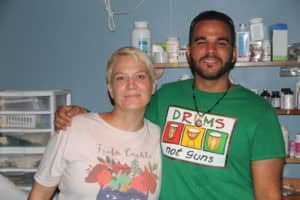 All this is possible with help of local veterinarians like Dr. Baptist, support teams from the US, volunteers and a few paid employees. But the driving force behind HBHS is Clara Lee Arnold, a blond haired, blue eyed woman from Tucson, Arizona, USA, with the energy of a bulldog. She tirelessly coordinates helpers, secures supplies, raises money and more, all the while indulging the animals under care with her boundless love.
"This is my 10th year working in Belize, and it continues to be a joy.  It is indescribably fulfilling to see how animal welfare has improved, not just in Hopkins but around the country," said Clara Lee.  "Through consistent access to veterinary care, the health of companion animals has greatly improved, and the quality of life is better not just for those animals, but for the concerned and loving caretakers as well"
HBHS can use YOUR support.   They welcome in-kind donations that you easily can pack in your bag. Monetary donations are needed, too. In Belize, it costs US $50 for bag dog food, US $20 for bag cat food, US $15 for vaccine and US $200 for tank of gas that allows HHBS to pick up and deliver animals for clinic that otherwise wouldn't be able to come. Hamanasi has a matching campaign up to $5000, so you can make your contribution go further!
Thank you, HBHS, for the invaluable work you are doing on behalf of the animals of Belize!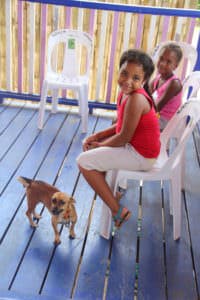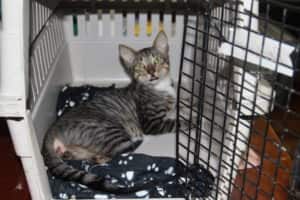 SaveSave
SaveSave
SaveSave
SaveSave
SaveSave