Lead a life others fantasize about. Sailing into incredible sunsets could be the rule, not the exception, especially if you work in a tropical dive destination. The commute to work could be as easy as a two minute walk or a ten-minute boat ride. Work now becomes an adventure in itself. While experiencing new cultures and lifestyles, you'll be surrounded by people who are happy because they are diving! It's not all fun and games in paradise, but the rewards are well worth the effort. If you set your sights close to home and aspire to work at a local dive center, you teach people how to dive and guide trips to exotic dive destinations. There's a sense of pride sharing something you are passionate about. You help others enrich their own lives by experiencing the adventure of diving.
PADI Divemaster Course

Take the first step in your dive career and become a PADI Divemaster. Working closely with a PADI Instructor, you'll expand your dive knowledge and hone your skills as you become a dive professional. PADI Divemaster training develops your leadership abilities by training you to supervise dive activities and assist instructors with student divers. During this course, you will be coached in dive leadership through classroom and independent study sessions,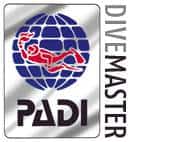 you will complete water skills and stamina exercises in confined and open water, take part in training exercises to test organizational and problem solving abilities and have a series of practical training dives. This program can be custom designed to enable students to do most of the theory prior to arrival.
This is an intensive course taken over a minimum of 2 weeks. To finish in 2 weeks the candidate will be working 8+ hours per day after allowing for self-study time for exams. Course cost is US $1800 and includes all study and testing materials.