2018 is the Year of the Bird!
Why is that? Not because of the Chinese calendar – they're on the Year of the Dog, but there's room for more than one animal this year.  2018 marks the centennial of the Migratory Bird Treaty Act, perhaps the most powerful and important legislation ever passed to protect birds. To celebrate the landmark treaty, Hamanasi is joining National Geographic, Audubon, BirdLife International and the Cornell Lab of Ornithology on a "Year of the Bird" Campaign. Nature lovers around the world are invited to commit to protecting birds today and for the next hundred years.
Every month in 2018 Hamanasi will bring you a post introducing you to one of the many migratory birds you can see in Belize, with information from our expert birding guides and pictures taken by our guests.
We hope you'll join us in celebrating the Year of the Bird, either by visiting Hamanasi or by sending us your pictures of migratory birds. We'd love to feature your work in next month's post! #BirdYourWorld
Meet the Black-necked Stilt: Making itself very easy to spot with it's very long pink legs and black and white plumage, the Black-necked Silt (Himantopus mexicanus), prances in the marshes by Hopkins Village, oblivious of visitors taking pictures of it as it goes about its daily routine.  To learn more about this delicate looking migratory bird we sat down for a chat with our birding expert Bern Quintanilla who shared all the must knows of the Black-necked Stilt.
Identifiers: Weighing in at 4 to 7 oz. and with a length of 13 to 15 inches, the most outstanding feature about this bird is its long lanky legs making it seem 'delicate'. The only other bird that surpasses the length of the Black-necked Stilts long legs in proportion to its body is the flamingo. These Stilts have a white under breast with a white tail, but are black on their wings, back and neck. Their bills are black, long, straight and thin, perfect for feeding on insects and small crustaceans in wetlands.
Do you hear me? This is the sound of the Black-necked Stilt's call.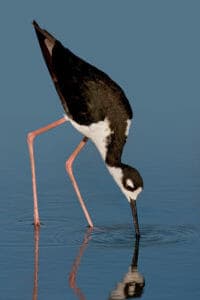 Home sweet Home: Though they migrate in other parts of the world, the Black-necked Stilt is actually a resident bird in Belize and can be found in wetlands across Central America, the western United States and some parts of South America. Their ideal foraging grounds are, wetlands comprising of marshes, shores, flooded fields, ponds. They prefer shallow waters even though they have long lanky legs! Black-necked Stilts have also been known to visit artificially created wetlands such as sewers.
What's for dinner: Black-necked Stilts seek and enjoy a diet rich with insects, crustaceans and certain invertebrates. (Yummy!) They're known to even dabble in plant seeds if there is no meat available – a real survivor. Some of their favorites meals are tadpoles, small fishes (which they huddle to the shallows so as to better trap them), shrimp, and flies — even larvae is not out of their diet.
Mating rituals: When mating season comes around Black-necked Stilts will 'house hunt' together, more specifically, 'site hunt' together. Their nests are usually built above water and comprise clumps of vegetation lined with shells, pebbles, small sticks and even grass. They work together in building the nest for a clutch that may consist of anywhere between 3 to 5 eggs. Incubation takes about 26 days with the hatchings ready for independence within 2 hours of hatching!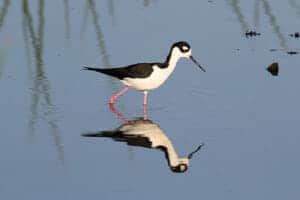 Interesting fact: Black-necked Stilts nest in colonies so as to safeguard against predators, in a sense, to look after each other — a bird neighborhood watch. They also are known to mingle with Avocets in their colonies. However, they could be pretty mean to chicks that don't belong to them. These stilts are not afraid to attack predators in a flock like formation.
Population: Black-necked Stilts have a stable population across their locations.
How to Spot Them on your Hamanasi Vacation: Hop on the Hamanasi Tropical Birding Adventure or the Hopkins Bike Tour to spot the Black-necked Stilts around our wetlands. Don't forget to have your camera handy! Special thanks to Hamanasi guest David Unger for his photo of the Black-necked Stilt.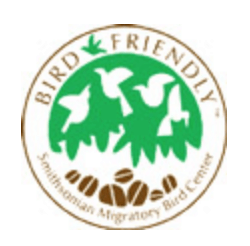 Bird Tip: Drink great coffee. Coffee isn't just an elixir of early morning life, it's vital habitat for migratory songbirds. By choosing shade-grown coffee, or better yet Bird-Friendly certified coffee (which combines organic and Fair Trade credentials with high-quality shade habitat), you can make a direct contribution to maintaining bird habitat in the tropics. Read about the importance of shade-grown coffee to people and birds in Colombia; plus a handy guide to understanding coffee labels.
Next month's bird is Snowy Egret! If you have a favorite photo or story of a Snowy Egret from your Belize vacation, please share it with us so that we can feature it in our blog!