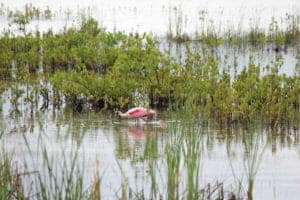 Nice to Meet You: Say hello to the Roseate Spoonbill (Platalea ajaja) – Stunning at a distance, but a bit odd up close, these heron-like pink birds have long, flat spoon-shaped bills, bald heads and long reddish legs.  Their preferred habitat is marshes, coastal lagoons and tidal ponds where they forage — often alone — sweeping their flat bills from side to side straining small food items out of the water.  If you get close enough you may hear their low grunting sound.
2018 is the Year of the Bird!
Why is that? Not because of the Chinese calendar – they're on the Year of the Dog, but there's room for more than one animal this year.  2018 marks the centennial of the Migratory Bird Treaty Act, perhaps the most powerful and important legislation ever passed to protect birds. To celebrate the landmark treaty, Hamanasi is joining National Geographic, Audubon, BirdLife International and the Cornell Lab of Ornithology on a "Year of the Bird" Campaign. Nature lovers around the world are invited to commit to protecting birds today and for the next hundred years.
Every month in 2018 Hamanasi will bring you a post introducing you to one of the many migratory birds you can see in Belize, with information from our expert birding guides and pictures taken by our guests.
We hope you'll join us in celebrating the Year of the Bird, either by visiting Hamanasi or by sending us your pictures of migratory birds. We'd love to feature your work in next month's post! #BirdYourWorld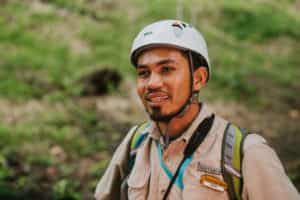 Ask an Expert: We sat down with Bern Quintanillo Jr., – one of Hamanasi's expert birding guides – to learn more fun facts about this month's bird – the Roseate Spoonbill. Here's what we learned:
These birds are big fans of Belize! (Who Isn't?) If you are looking to meet one of these beautiful birds in person we've got some good news – even though they migrate up and down the coasts of South, Central and North America, Roseate Spoonbills can be spotted all year round in Belize. You've got a great chance to see one in the wetlands near Hamanasi during our Tropical Birding Tour or the Hopkins Bike Tour. Bring your camera share your photos when you see one!
Like your mother always said… you are what you eat! The Roseate Spoonbill's lovely pink complexion is due to their heavily shrimp-based diet.  The shrimp eat specific carotenoids – organic pigments produced by plants and algae.  Then the Roseate Spoonbill eats the shrimp, and the whole little food chain turns a distinctive shade of pink.
FYI: When you are in Belize, if you ever think you see a pink flamingo, it's probably a Roseate Spoonbill.
Mating Season:During mating season these spoonbills nest in colonies in trees, mangroves or scrub 5-15' above water, but sometimes on the ground. Built by the females, the nests are bulky platforms of sticks with a hollow, deep center lined with leaves and twigs. A typical clutch is 2-3 eggs.
Our friends at the Belize Audubon Society like them, too:

Healthy Population: Currently, the overall conservation status of Roseate Spoonbills is stable. They were very common in parts of the southeast USA until the 1860s, but were virtually eliminated by plume hunters. They began to re-colonize in Texas and Florida in the early 20th century. Now in the USA, these birds are still relatively uncommon and localized, vulnerable to degradation of feeding and nesting habitats.
This Month's Thanks: Special thanks to Hamanasi guests David Unger and Alex Ruiz for their photos of the Roseate Spoonbill.
Coming Next Month: We'll introduce you to the Scarlet Macaw.  Have you seen a Macaw in the wild?  Maybe on your last trip to Hamanasi? Send  your stories and/or photos to jessica@hamanasi.com and your work may be featured in our next blog post!
Expert Birding Tip: Before your next birding trip download the free Merlin Bird ID app.  It identifies more than 650 U.S. and Canada birds, with additional support for birds of Mexico, Central America, and Europe; it comes with photos, range maps, and sounds; and it works on both iOS and Android. Download it and head out for a short, head-clearing walk each morning or evening, and let the chip notes drift down at you like quiet hellos.
SaveSave
SaveSave