On June 23, 2018, Hamanasi Adventure & Dive Resort was awarded the Best Practices Award for Environmental Sustainability. This was presented at the 2018 Caribbean Hotel Information Exchange Forum (CHIEF) conference hosted by Caribbean Hotel and Tourism Association (CHTA) in Miami, Florida, USA. The CHIEF Awards showcase the Caribbean's best practices and innovation in the realm of hospitality and tourism within the following four main areas of business: Environmental Sustainability, Operations, Sales & Marketing and Social Responsibility.
Hamanasi's General Manager, Launce Roberts, attended the CHIEF conference and was honored to accept the award. "People might tell you that it's too difficult, it's too hard to achieve what you want to achieve, or it won't make a difference anyway. Don't listen to them," said Mr. Roberts. "My message is have perseverance and to stay on track. We all here represent a united front — a united front of sustainability. Together we can make a difference."
In order to be nominated for the award, a company must be current active CHTA Member and submit an extensive nomination form demonstrating environmental best practices. A panel of judges representing top industry professionals in their respective areas reviews all nominations and makes their selections. The judging panel represents different countries and geographic regions, as well as different professional backgrounds, including the private sector, academic institutions, non-profit organizations and government, to reflect the multi-stakeholder engagement in Travel & Tourism.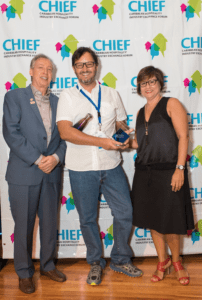 On the nomination form, Hamanasi outlined how it has made a concerted effort to reduce plastic pollution that litters beaches, roadsides and villages throughout the world. Hamanasi has implemented three simple things to reduce its plastic pollution.
First, Hamanasi phased out the use of single use plastic water bottles completely. Now, all guests received a complimentary stainless steel water bottle upon check-in that they can keep and use at home. Throughout the resort and in rooms are 5-gallon water bottles where guests can refill their bottles and take them with them on tours. Now, Hamanasi has no plastic water bottle waste. This has reduced water and waste-removal bills.
Second, Hamanasi did not like the amount of non-biodegradable waste that plastic straws generated. It partnered with an organization called The Last Plastic Straw and switched to using imported bamboo straws. Hamanasi's bartender, Mark Jacobs, realized that he could make them better using bamboo grown in Belize. He started his own business making bamboo straws, customizing straws for different types of drinks: tall, short or thicker for smoothies. At Hamanasi bartenders do not automatically give guests straws, but ask if they need one. If guests say yes, they are given a bamboo straw. And guests love it! These straws are for sale in the gift shop and make great souvenirs.
Word has spread. Now, other businesses throughout Belize are starting to use bamboo straws. Mark now employs his wife, his brother and his father in the straw-making business.
Finally, Hamanasi still had a lot of plastic waste from disposable cutlery and plates used on our tours.   It switched to all reusable items that are brought back to the resort to be washed and reused. This has elevated the level of quality and service the resort provides and has greatly reduced waste, which saves money. Furthermore, this limits the amount of trash that accumulates at parks.
While the amount of worldwide plastic pollution remains great, actions by everyone can help reduce it. Three relatively simple and cost effective steps have drastically reduced the plastic waste that Hamanasi generates. And Hamanasi guests have a happier, more positive experience.   The triple bottom line in action!