In the western hemisphere lies the little country of Belize that can easily be overlooked on a map. Its 8867 sq. miles is bordered on the north, west and south by larger neighbours known on the world stage. On the east Belize is gently guarded by the majestic Belize Barrier Reef in the Caribbean Sea. Our little country proudly and fondly is referred to by the locals as "the jewel". What we don't have in size, we make up in culture, nature, fun and so much more!
One only needs to zoom in the Google lenses to discover a country rich in natural resources and cultural diversity, where the manual for hospitality is designed from home-grown kindness. Belize harmoniously accommodates over 7 different ethnicities speaking over 10 languages and dialects. Amongst the most notable is the Garifuna culture, which was proclaimed a UNESCO Masterpiece of the Oral and Intangible Heritage of Humanity in 2001.  Zoom in a little closer and discover the fishing village of Hopkins in Southern Belize where the Garifuna culture is alive and thriving!  As if this was not enough to visit Hopkins, this village is also the ideal location to discover the rest of Belize.
Come experience first-hand what makes Hopkins so unique and a perfect location for your Belize vacation. While you are here make sure to indulge in the top 6 things Hopkins has to offer!
#1 Pedal Your Way Through Life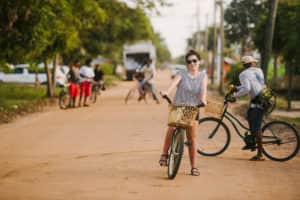 The best way to get an overview of Hopkins is to pedal your way through it! On a bike tour of the village you not only learn about the history of the village but you will come across genuine hospitality from the locals as they proudly showcase what makes Hopkins "Belize's friendliest village".
#2 Beat of the Drum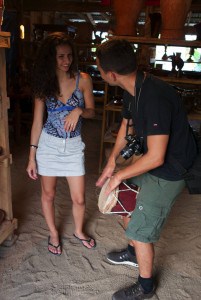 Drumming is an integral part of the Garifuna culture, and Hopkins boasts the best drummers in Belize.  You likely will hear beats throughout village. To try your hand, take a lesson at the Lebeha Drumming School. You can see traditional drummers and dancers perform in various places, like Hamanasi Resort on Thursday afternoons. If you want to take one home, visit the village drummaker, Rudy Coleman, for your own cultural treasure.
#3 Eat Like a Local!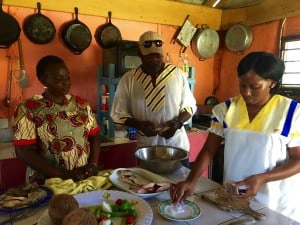 The Garinagu hail from Africa and the Caribbean Islands, and their cooking infuses both those traditions. Expose your tastebuds to local Garifuna specialties such as cassava bread, cere and hudut. Submerse your sense of taste in a cooking class where local cooks will show you how to spice food the Belizean way, the Garifuna way and simply the delicious way.  But since it is Belize, you can't go away without trying Belize's most popular dish – chicken, rice and beans – prepared any number of ways. There are a variety of places from local haunts to upscale foodie restaurants to sample delicious Belizean cuisine. Wash it all down with an ice cold Belikin beer!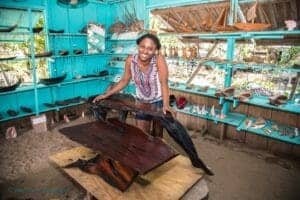 #4 Shop till You Drop
Sprinkled thorughout the streets of Hopkins are a number of gift shops selling authentic Belizean and Central American arts and crafts. You will find bowls carved out of Belizean hardwoods, coconut and beadwork jewelry, colorful paintings, handmade Garifuna dolls, woven baskets and slate carvings, among many other items. Stock up on your birthday and Christmas presents while there!
#5 Time to Explore!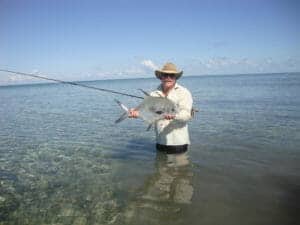 Nestled between the Caribbean Sea and Maya Mountains, Hopkins is the ideal launch pad to explore the wonders of Belize. This traditional fishing village offers many fishing opportunities. Try your luck fly fishing to catch the big three: tarpon, bonefish and permit. If you are really adventurous, you could hunt the invasive Lioinfish while scubadiving. If you'd rather see fish and beautiful coral, book at diving or snorkel trip to the barrier reef. Not a diver? You can easily learn to dive at a 5-star PADI Marine Facility.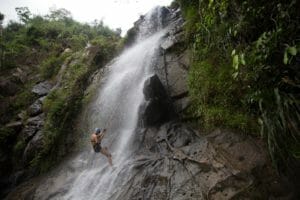 Onshore just a short drive from Hopkins is the Mayflower Bocawina National Park. With over 7000 acres of pristine jungle rainforest it is home to Belize's longest zip lining trail (total of 2.5 miles) and a breathtaking 1000 feet waterfall rappelling adventure or jungle and waterfall hike.  Nearby is the the world's only jaguar preserve, the Cockscomb Basin Wildlife Sanctuary. Hike the trails of this 120,000-acre national park and, perhaps, see the elusive jaguar. Spot some of Belize's 500+ species of birds on a tropical birding tour. You may add to that life list! If leisurely paddling down a jungle river is more your thing, check out a canoeing trip on the nearby Sittee River.
#6 Do It All or Do Nothing at All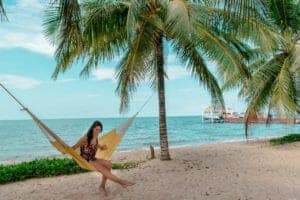 After adventure and exploring, relax and kick back in a hammock! Grab a book or a local libation and enjoy the beaches and peacefulness of Hopkins.  Let the sand between your toes bring you happiness and the comfort of knowing there is a place in Belize that suits you and your vacation wishes just fine.
Visit Hopkins to make your own footprints in the sand and take home memories of a lifetime!
SaveSave
SaveSave
SaveSaveSaveSave
SaveSave